We are grateful for the holidays, and looking forward to some great things for 2021.
*******************************************
We are excited to be hosting a Winter Read 2021 through the month of January for ALL AGES. You can register online at bridgtonlibrary.beanstack.org, keep track using a printed log, or give us a call (207-647-2472) and sign up for our Adult Simple Registration Option.
Printed logs are also available at Bridgton Books. We've put together Recommended Reading Lists on our website and can print one out for you on request. Or just give us a call and we're happy to help.
*******************************************
We have some wonderful To-Go bags this month to grab and go. If you are putting items on hold or using no-contact pickup, just let us know which To-Go bags you want and we'll hand them out to you! For adults, we have Comfort To-Go: Cocoa and Puzzles and Craft To-Go: Etched Glass and for kids, we have Comfort To-Go: Cocoa and Puzzles and Culture To-Go: Rufus Porter Portrait Painting. Rufus Porter Museum has put together a Miniature Portrait project just for us here at the Library. Rufus Porter was a self-taught artist who built miniature water-wheels for fun, played music, wrote poetry, and painted. This bag has everything you need to create your own portrait, including a small watercolor kit.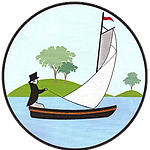 All bags are free, available first come first served while they last.
Happy Winter 2021