We would like to take a little time to thank all of our community partners who have helped us provide programs and services to library users through 2020:
Rufus Porter Museum
Bridgton Rotary Club
Bridgton Recreation Department
Bridgton Community Center
Bridgton Books
Opportunity Alliance
Lake Region Collaborative Action Network
Bridgton Historical Society
UMaine Cooperative Extension
Oxford County 4H
Maine Publishers and Writers Alliance
We would also like to say thank you to the foundations and organizations who have provided generous support through donations and grants through the year. We could not have kept the lights on and services going without them!
Town of Bridgton
Maine Humanities Council: CARES Act Funds
Maine Humanities Council: Diverse BookFinder
Reny's Charitable Foundation
Norway Savings Bank Charitable Foundation
The Wonderful Foundation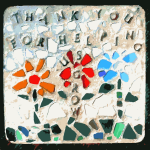 And we are ALWAYS grateful to our individual donors, who donate over 20% of our operating costs with their support. It has been a challenging and wonderful year, and we are just so proud to be part of this community.
Our individual volunteers, Friends of Bridgton Public Library, and Board of Trustees have donated so much time and talent, beyond measure.
Thank you.