Obtaining a card
Library cards are available free of charge to residents and non-residents of Bridgton. Proof of identity by a valid photo ID is required. A documented current address is required; these can include a tax receipt, rent receipt, or piece of mail addressed to and received at your current address.
Children ages 5 and up may obtain their own library card with a parent or guardian signature. Adult cards are issued at age 18 and over.
Patron Privileges
If you are 5-11 and have a library card, you can check out up to 5 items and use the computers with your guardian sitting with you. If you are 12-17, you can check out up to 10 items and use the computers with guardian permission slip; your guardian does not need to stay with you. If you are 18 and over, you have unlimited book checkout and computer use privileges as long as your account is in good standing.
Circulation
Books, audios, DVDs, and periodicals circulate for 2 weeks. You may renew up to 3 times if no one is waiting for the item. Renewals may be made over the phone, by email, through our online catalog, or in person.
We do have special items in our collection with separate circulation rules, including a museum passes, cooking tools, and a telescope. Please ask at our Main or Youth Services Circulation Desks for more information or click here to view our Use Guidelines and Agreement: Special Collections
Overdue Items
We do not charge Overdue Fines. We do ask that you return items on time or renew items when they are due if you are still using them. We will send you a reminder if an item is more than 14 days overdue. After 30 days, your borrowing privileges will be suspended until the item is returned or replacement payment has been arranged.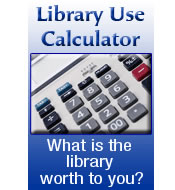 Use this to calculate the value of your card!