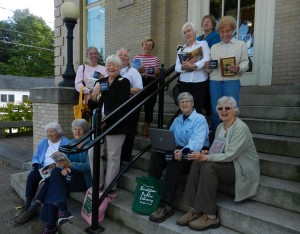 The Friends of the Bridgton Public Library invite you to join them in their various activities and fundraising efforts on behalf of the library. The Friends meet at 9:00am on the second Tuesday of the month at the library. New members are always welcome.
To join the Friends, stop by the library or mail the completed application form and contribution to: Friends of the Bridgton Public Library, 1 Church St., Bridgton ME 04009. Membership year runs July 1 – June 30. Please make checks payable to the Friends of Bridgton Public Library.
We are members of Friends of Maine Libraries and through that organization work to improve all libraries in Maine.
Some examples of the Friends' support of the library include
Annual summer used book sale
The Yellow Wall Gallery local artist exhibit space
Bottle redemption program — Label your bag of returnables with Bridgton Public Library and drop them off at the Redemption Center on Nulty Street.
Ongoing book sale in the library — opposite the circulation desk
Programs and events
Purchase of museum passes
Purchase of public access computers and equipment
Helping the library staff with special projects
Volunteer activities such as shelf-reading, maintaining library scrapbooks, book delivery
Staff appreciation holiday party
For more information, attend a meeting, review our brochure, or email bridgtonlibraryfriends@gmail.com