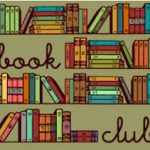 We get really excited about our book groups at the Bridgton Public Library! We have (5) different groups who get books through our library, and (4) of them meet in our meeting room. Each group is run by a volunteer or staff member. The BPL orders titles through Interlibrary Loan and holds the books on the reserve shelf for group participants to check out and return at our Main Circulation Desk.
The Bookies meet every 4th Wednesday here in our meeting room and read a combination of fiction and nonfiction selected by group members. A sample of titles includes: The Rent Collector by Cameron Wright, The Handmaid's Tale by Margaret Atwood, and The Rules of Civility by Amor Towles.
The Literary Club meets every 2nd Friday and reads a wide range of classical and contemporary fiction and non-fiction. A sample of titles includes: The Snow Child by Eowyn Ivey, A Man Called Ove by Fredrik Bachman, and The Lobster Coast by Colin Woodland
The Book Bags meet every 4th Tuesday, though not here in our meeting room. A sample of titles includes: Born a Crime by Noah Trevor, A Woman of Independent Means by Elizabeth Forsyth Hailey, and Soul of an Octopus by Sy Montgomery.
The Nonfiction Book Group meets here every other month on the 2nd Wednesday. A sample of titles includes: Just Mercy by Bryan Stephenson and No One Cares About Crazy People by Ron Powers.
The Teen Fantasy Book Group starts in March and will meet on the 1st Friday of every month. This group is for young adult discussion and will be led by our Youth Services Librarian, Miss Samantha.
If you are interested in joining any of these groups please check with our circulation desk, give us a call (647-2472), or send an email (bpldirector@bridgton.lib.me.us) and we will put you in touch with the group organizers.