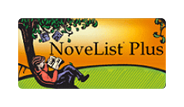 The NoveList Plus and databases are available to BridgtonPublic Library card holders through the Digital Maine Library (DML) databases.  If you are connecting from home, you will be asked for your name and library card number before you can access this rich resource.  Here's what you will find!
The secret to finding great books
NoveList Plus is the premiere database of reading recommendations, available through libraries around the world. It is a comprehensive source of information about books that includes expert recommendations, reviews, articles, lists and more.
Encourage reading success!
NoveList K-8 Plus is included in this database about books, filtered by age for younger readers. It helps kids find books that are just right for their reading level and interests. Parents, teachers, and librarians can also find tools to teach with books and engage young readers.