Welcome to the Youth Services Department at Bridgton Public Library
If you haven't been to visit us in a while, we invite you to bring your family to the library and explore this great space dedicated to children and young adults. We have areas for all ages to read, discover and learn.

Our youngest patrons will find a great play space for imagining and exploring, and our teens will find a separate room designated as a quiet space where they can log on to their devices, read, or study.

We look forward to seeing you!
Resource Pages
Children's Room
Homeschool Resources
Parenting Resources

Meet the Librarian
Miss Samantha is excited to explore programming and outreach opportunities with kids and families in our community. She loves a great conversation about books and looks forward to hearing your favorites while she sends you home with hers!
Her achievements include earning the Gold Award in Girl Scouts and receiving her B.A. in Anthropology from Adelphi University. She has also traveled to 22 different countries!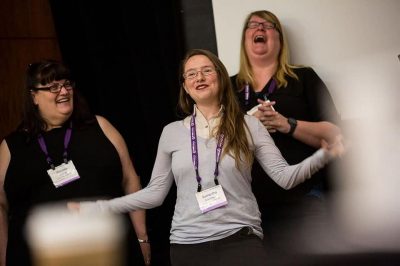 Contact Miss Samantha
Email: samanthaz.bridgtonlibrary@gmail.com
Phone: 207-647-2472, Ask to speak with Samantha in Youth Services
Follow Us on Instagram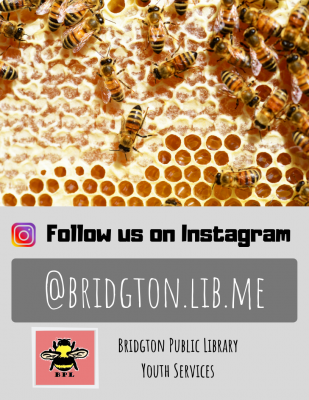 Books and More!
We have a large collection of picture books, board books, easy readers, fiction and nonfiction for children of all ages and interests. In addition we have several non-print collections which include DVDs, audio books, and activity kits.

Click here to see new additions to the collection: New in Youth Services

Activity kits are themed based on different subjects including STEAM subjects, social studies, and foreign languages. Each kit has at least one book and a variety of other materials: puzzles, flash cards, educational games, DVDs, and models. The kits target kids from Pre-K to Middle School+. Some of the materials even help college students study for exams

Click here to see a complete list of Activity Kits we offer for check out!
Weekly Programs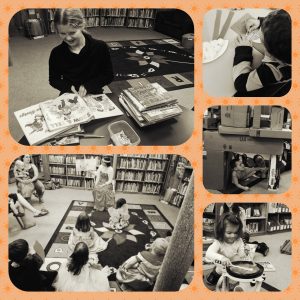 Tunes for Tots is every Tuesday 10:00-11:00. For ages 0-4, this hands-on program includes a rotating collection of musical instruments, a take-turns sing-along, and usually a good old-fashioned parade of fun.

Lego Club is every Tuesday 3:30-5:30 through the end of June. Miss Samantha brings out her secret Lego stash to share with kids of all ages. Older kids like to teach younger kids how to make cool creations, and for the littlest members of our club we have a whole box of Duplos!

Preschool Storytime every Friday 10:00-11:00. This is a storytime for children ages 0-6 years. Following storytime we have a fun craft and healthy snack. No registration is required.

In addition to our ongoing programs, we also have regular and special programs throughout each month. You can find a detailed schedule with dates and times on the Calendar page of our website.
Check out these awesome craft events in June!
Standing Programs Available All Library Hours
Cultural and STEAM To-Go Bags
Interactive Bulletin Boards
Scavenger Hunts
I Spy Tank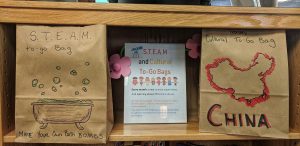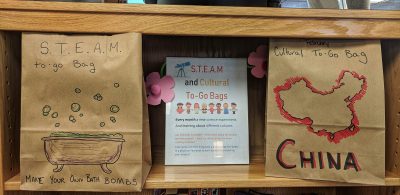 From September – June, each month a new Culture and STEAM To-Go Bag is available. All To-Go Bags are completely free and include all the materials necessary to do the projects. Each bag has instructions and a book list about related materials. The bags become available at the beginning of the month and are available on a first come basis.
Bridgton Public Library Contributes to the Maine Library Community
Miss Samantha has an article about her Literacy Loons! initiative published in the most recent edition of the Maine Library Association A to Z newsletter. Literacy Loons! is a cooperative effort of Bridgton Public Library, Bridgton Books, Bear Pond Learning, Bridgton Literacy Task Force, and Bridgton-Lake Region Rotary Club.

Please click this link to read more: Maine Library Association newsletter
Summer Reading Program 2019:
Read for the Stars
Join us this summer in a quest to reach the stars! From July 2nd to August 3rd enjoy extra summer programming themed around space.

Participating astronauts can pick up their reading bags and folders at the Youth Circulation Desk as early as June 25th. Keep track of your reading in order to win stickers, posters, and raffle tickets. Also, participate in library activities and events to win even more prizes