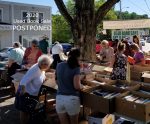 Annual Book Sale Postponed, Book Donations Suspended
The Friends of the Bridgton Public Library have decided to postpone the Annual Used Book Sale, usually held in July, to a future date to be determined by the COVID guidelines as they evolve. The current Restarting Maine's Economy guidelines for Stage 3, July-August, maintain the prohibition on gatherings of more than 50 people and the 14-day quarantine on people entering Maine. Additionally, at-risk people should stay home when possible. These and other health and safety issues have necessitated the decision to postpone.
The Friends are discussing a possible future date for the large sale, and other smaller ways in which we can make used books available for purchase to our many supporters. Because we have a large stock of used books on hand, with no immediate way to disperse the materials, we are also continuing the suspension of book donations.
As conditions change, we look forward to resuming used book donations and sales. Thank you for your understanding during this unusual period in our nation's public health history.