When:
03/21/2018 @ 11:30 am – 12:30 pm
2018-03-21T11:30:00-04:00
2018-03-21T12:30:00-04:00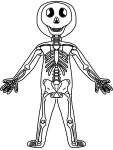 Unfortunately the delivery of our trunk was cancelled due to weather. We will try to re-order the Cornerstone Science Trunk and will re-post the program if it is rescheduled. We are sorry for any inconvenience.
Learn the science that explains the basic functions of the amazing human body. Activities include Blood Cells, The Human Heart, The Lungs, Bones and the Human Skeleton, and A Conversation About Our Health.  Come explore our Cornerstones of Science Trunk with us! For ages 7-12.